Book Your Energy Performance Certificate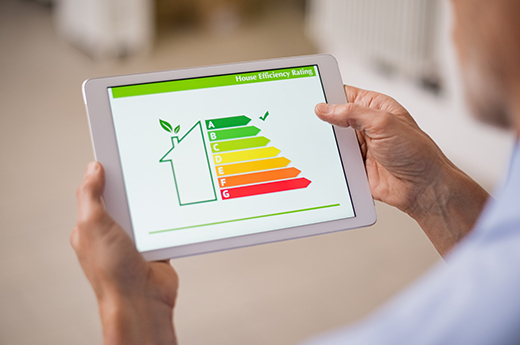 Energy Performance Certificate - Nationwide Service
Flexible Hours; Book a time that suits you

Same Day Bookings

Highly Recommended - 4.8/5 stars on Trustpilot

Pay us by Card, PayPal, Google Pay, Apple Pay or Pay on-site
Find Experienced & Trustworthy EPC Assessors
Book your EPC online!
Choose property type:
Required field!
We're sorry, you do not qualify for the government grant.
Continue and find the best installation prices in the UK.
Congrats! You qualify for a government grant!
You could save up to £350 with a government grant for your charger.
Please enter a valid postcode or address eg. SW1A 1AA
Alan was very efficient, friendly and professional. Due to a traffic hold up he was a 15 minutes late. This happens but a telephone call to let me know would have been appreciated.
Peter was very accommodating with his schedule as I dug up some documents related to renovations done at the property, which was much appreciated. He was very professional and clearly explained all the processes.
Carried our work in a professional and capable manner. True to his word the report was downloaded on the same day of inspection. Definitely 5 stars.
Stephen was excellent. Quoted promptly turned up on time did what he was supposed to do, and provided the report fast could not ask for any more. Thank you, Stephen.
Ricky was very professional, punctual and polite. He provided an excellent service when giving me a commercial EPC. I would highly recommend him based on my experience.
Amrit Kooner EPC accessor was very professional, friendly and extremely efficient.I would definitely recommend him. As promised he uploaded EPC next working day.
Had a Energy Certificate (EPC) done with George. A very professional service and friendly. He knows the house structure just by looking at it. Highly recommended.
Simple & easy from start to finish. George was on time, explained his process and followed it. All done within 45 mins and we had the certificate in hand within a few hours. Fantastic job. Thanks George.
Jack arrived on time, and was friendly, he took time to explain what he was checking. he is very professional and clean and tidy. He even sent me the EPC certificate that same day. would definitely recommend his service.
Very happy with the service provided. Kayne was friendly, professional and communicated with us well. We received the certificate within hours of his visit. Would thoroughly recommend.
They are totally efficient and accurate, well trained for the job. They treat your property with respect. And you get your ECP the same day. I also liked highly competitive pricing.
Efficient and effective. Was slightly early on the day, and just got on with it! Had the certificate cleared with my mortgage company within 24 hrs. Couldn't ask for more.
Communication was great, had to rearrange, which was absolutely fine for us, came on time and certificate was produced within 3 working days. Great service.
Sean was timely, efficient, helpful with explanations and considerate while getting on with his job. Would happily recommend. Invoice as expected. Altogether a good experience. Thank you.
Nothing to dislike, Aso is a Thoughtful consider professional who wears foot covering when entering my tenants home. Excellent communication. He is curtious and considerate when he does his work and I wil lcontinue to use his professional service for all my EPC's
Very professional. Communicated well from start to finish. He asked me a few questions then got on with his work. Informed me on his completion and left the property spotless.
Really nice helpful guy with great understanding of area. Have a lot of constructive feedback on current compliance with regs and good advice on how to improve efficiently.
The contractor was very polite and courteous. He called to let me know when he was stuck in the traffic and would be slightly late. He was very knowledgeable and helpful. He answered my questions and made interesting recommendations to improve the energy efficiency of my property.
Kyle was very helpful and very honest. He actually called me ahead of time to say that he'd checked and my epc was valid until 2029 and didn't need updating so It was pointless me spending the money. How many people would do that? Very kind of you Kyle and very honest so thank you very much. I would not hesitate to recommend!
Contractor arrived on time, was pleasant and courteous. Report was read to view within a few hours following completion. Definitely recommend as good value for money
Recently booked jobs
16 minutes ago in Hampshire
29 minutes ago in Hastings
1 hour ago in East Grinstead
EPC certificate
An Energy Performance Certificate, or EPC for short, is a document that details how energy efficient a property is. EPCs have become a legal requirement for all house owners and landlords in the UK. It is very important as a house owner or landlord that you have a valid certificate before you sell or rent out your property to prospective buyers or tenants.
Energy performance certificates provide useful information that shows the energy efficiency of a building or property. You can also know in advance about your energy running costs on average for the whole year to come. In this way, you can transform any kind of domestic or not property into a more energy-efficient one.
They also show the energy performance of a building on an alphabetical scale of A to G. When a building is given a rating of "A", it means that such building is highly efficient while buildings with a rating of "G" have very low energy efficiency and are not safe for habitation until such building's energy efficiency is improved.
So, if you're looking for an affordable EPC certificate cost, don't worry. We've got you! Continue reading for more information about how much the EPC certificate costs and more.
Are EPCs legally required?
It is a legal requirement to have a valid EPC for property in order to market your property for sale or rent which applies to both residential and commercial properties. It is now also a requirement to have a valid one if your property already has existing tenants in place.
If you are looking to remortgage a property then the majority of lenders will request you have an EPC carried out on the property.
Essential elements of an EPC
When looking for an energy performance certificate, it is important to know that not all of them look the same. For example, most of the following information on older certificates will be present, although some may look a bit different.
In general, an energy certificate must contain the following:
It must contain relevant information about the property's present energy use as well as its carbon dioxide discharges. This information must be stated using a rating of A (very efficient) to G (least efficient).
It must also contain the details of the EPC assessor who issued the energy performance certificate for future reference. It should also contain the date the inspection was conducted as well as the date the certificate was issued.
An overview of the relevant energy structures found on the property.
It should also have a certificate number which should be easily located at the top of the certificate.
An energy certificate should also have a validity date that tells the exact date the certificate will expire.
It should also contain suggestions about improvements that ought to be made to increase the energy efficiency of the property.
Let's take a look at an energy certificate example that was issued in 2022. Once the inspection is done, the energy assessor will provide you with the link to your property's energy performance certificate.
The overall rating of the property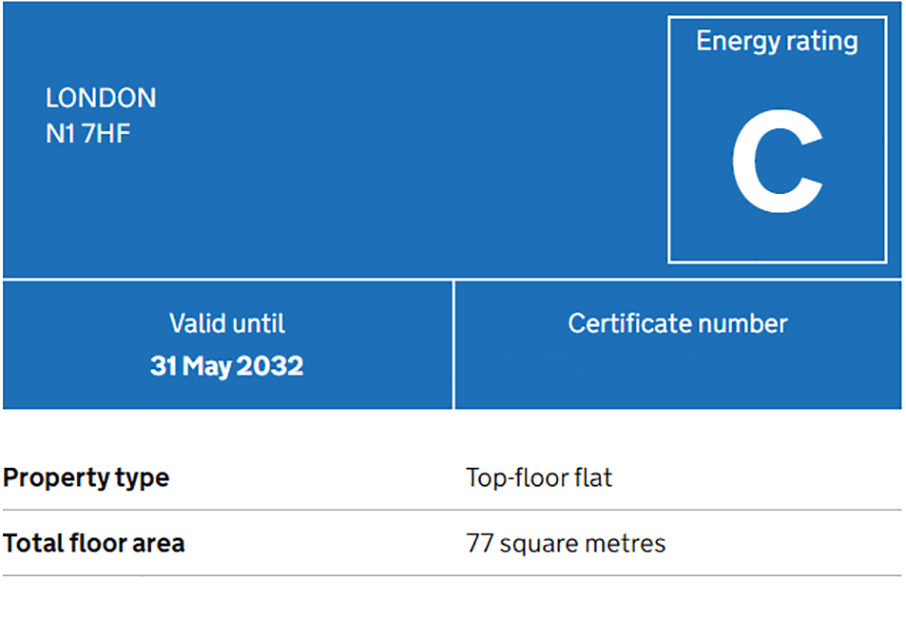 This image presents the size, type, and energy rating of the property. In this case, the energy efficiency is at "C" and the certificate is valid for ten years. Once you are informed about the property's rating, more information is provided on the current and potential rating.
Current & potential results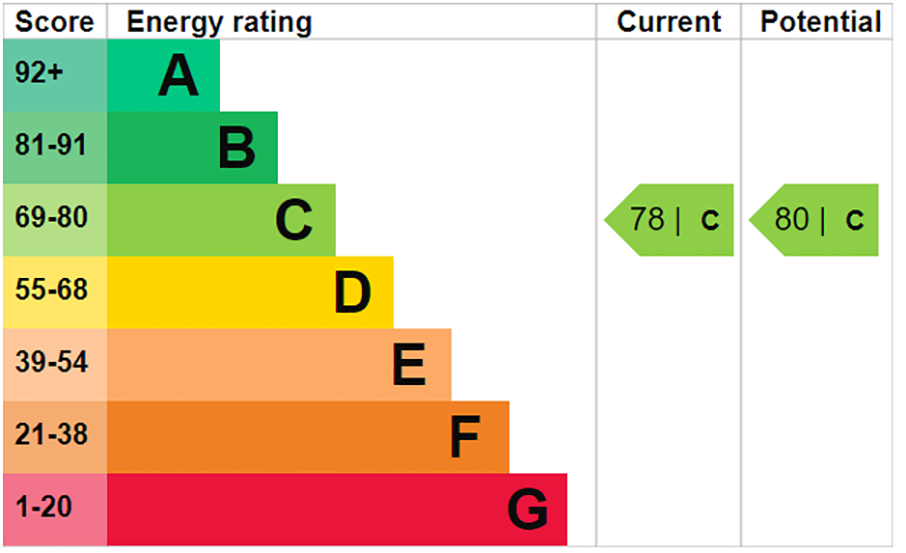 The graph above shows the current energy efficiency of the property. The rating has a scale of A to G, with the lowest being the least efficient. The higher the rating number, the lower your energy bills will be.
An EPC rating of C indicates that the building has an average energy efficiency when compared to other buildings. It means that the building uses more energy than a building rated A or B, but less energy than a building rated D, E, F, or G. The rating is based on factors such as insulation, heating systems, and the type and efficiency of the windows.
The certificate also provides you with a potential energy rating and energy score that can be achieved with the right improvements.
Note: For properties in England and Wales the average score of energy rating is D and the average energy score is 60.
Your EPC rating explained.
EPC for property breakdown
After that, there is the overall breakdown of the property's energy performance. This section shows the energy performance for features of the property that have been inspected.
Each feature is assessed as one of the following:
Very Good (Most efficient)
Good
Average
Poor
Very Poor
Assumed (The "assumed" part indicates that the inspection could not take place and an assumption has been made based on the property's age and type.
An example of a breakdown of a property's energy is as follows: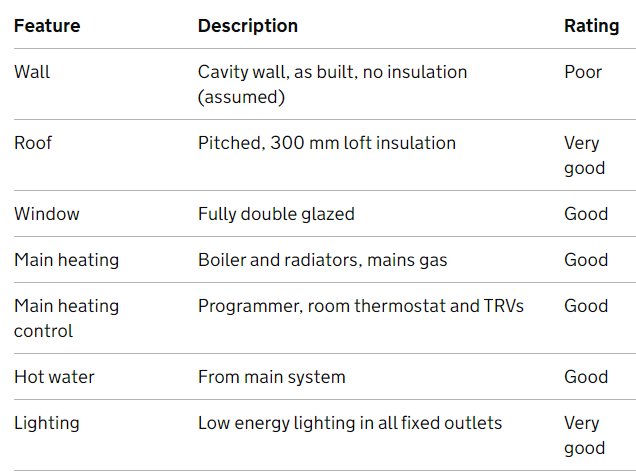 In this section, the primary energy usage of the property is calculated too. The value shows the energy required for lighting, heating, and hot water in a property.
Environmental impact & improvements
An environmental impact rating is based on assumptions about the energy consumption and occupancy of a property. However, it does not take into account how the people living in the building consume energy.
Once you have all the information you need, it is time for improvements. On the energy certificate, step-by-step recommendations are offered in order for the property's energy to be reduced. These recommendations can result in lower energy costs and increase the energy score of the property.
If you decide to follow those recommendations in order, the certificate provides you with an estimated cost of potential savings. The estimated cost of energy shows how much a household would spend on heating, hot water, and lighting in a property. It is not taken into account how the residents use energy.
At the end of the EPC certificate, the energy assessor's contact information is provided, so you can contact him/her at any time.
How can you find your Energy Perfomance Certificate? Learn everything about EPC Register by postcode.
What happens if you don't have a valid EPC?
If you do not have an energy certificate, or if your Energy Certificate has expired, you can be faced with a hefty fine.
In order to avoid these kinds of huge costs, all you need to do is provide an affordable EPC certificate. More specifically, if you are asked to present the energy performance certificate by an inspector and you fail to do so, you will receive a penalty charge notice and defined action.
The approximate fine for a home is £500, and for other types of properties, it could go as high as £5000.
EPC certificate cost
You can find a variety of prices when you search for an EPC certificate online. Book your energy performance certificate for property for just £34 through MyConstructor.
As it is reasonable, EPC Certificate cost may vary. The most common variables that affect the EPC Certificate cost are:
The area you live in.
What kind of property you live in?
How many bedrooms does your property have?
What is the type of construction of the building you live in?
Up-front estimates for energy certificate costs are as follows:
EPC Certificate cost for Studio from £34
EPC Certificate cost for 1 bed from £43
EPC Certificate cost for 2 beds from £44
EPC Certificate cost for 3 beds from £44
As you can understand, an EPC certificate cost is completely affordable and it can raise significantly the value of your property. Thus, doing research about the EPC online is totally worth your time.
Failing an EPC?
If you are looking to sell a property then there are no minimum requirements, you simply need to have a valid energy performance certificate. Rental properties now have a minimum requirement. If the property fails to meet the minimum requirement then you will not be able to move tenants in (see MEES below).
Your rating explained
The EPC certificate will grade the energy efficiency levels of the property with a rating from A-G; A being the most efficient, and G being the least. Naturally, the higher the rating, the more energy-efficient the building is. Currently, the average rating for a home in the UK is D - E.
Notethat if your energy performance certificate rating is low you may have to deal with an extra cost. More specifically, if your rating is below E, it's illegal to rent or sell your property. Not only that but also a low rating like the one mentioned affects your home's value and salability. As reasonable, an EPC certificate cost is worth paying for in order to improve your home's energy efficiency.
In a similar scale to the labels when buying new electrical devices, the energy efficiency of properties is graded on a sliding bar graph with a color scale from green to red to indicate their energy requirements or consumption. The certificate shows both current and potential ratings for both the Energy Efficiency Rating and the Environmental Impact (CO2) Rating.
Minimum energy efficiency standards (MEES) legislation
In April 2018, Minimum Energy Efficiency Standards came into force in England and Wales. MEES makes it a legal requirement for all privately owned properties to have an EPC rating of at least an 'E' before they are let. From April 2020, MEES has extended to existing lettings of residential property and in April 2023 to existing lettings of commercial property.
MEES do not apply to:
Buildings that are not legally required to have an EPC
These can include some listed buildings, places of worship, temporary properties, some HMOs (House of Multiple Occupancy) and holiday lets.
Short or very long terms lets
MEES does not apply to rentals of less than six months or more than 99 years.
The golden rule
For a landlord or a tenant to meet the qualifications of the golden Rule they must make the necessary changes in order to obtain an EPC rating of E or above. All improvements that are made to the property should be cost-effective and signed by an independent energy assessor. With regard to commercial properties, all investments for energy improvements must be cost-effective within a seven-year period. Please note that this needs very good research as not all assessors meet the same criteria. It's really important to take your time and learn more about the energy performance certificate online.
Devaluation
The potential for a negative impact on the property is another legitimate reason for MEES exemption. In this scenario, an independent qualified surveyor must judge that the necessary energy-efficiency improvements would reduce the property's market value by more than 5%. As reasonable, an EPC Certificate cost is necessary.
Third party consent
These types of exemptions are based not on the details of the property itself, but on the relationships between tenants and landlords. If a tenant, superior landlord or planning body either refuse consent for the improvements MEES requires, or require conditions that the landlord cannot comply with, the landlord can claim exemption. However, it is essential that you use all reasonable means to come to an agreement and gain consent before applying for this form of exemption.
Buildings occupied solely under licence
MEES only applies to buildings occupied under a "Relevant Tenancy". This includes an assured tenancy, a regulated tenancy, and domestic agricultural tenancies. If the occupier is present only under a licence to occupy the MEES requirements will not apply as there is no tenancy.
Social housing schemes
The regulations apply only to privately rented properties. Social housing is exempt from MEES regardless of its condition, quality, or EPC rating.
Your legal obligations
Since it was first introduced in England and Wales in 2006, the EPC is now a legal requirement for a building to be sold, let or constructed. Once the Energy Performance Certificate is issued, it is the owner or landlord's responsibility to keep it up-to-date.
If you choose to use an estate agent to market the property, they must include a copy of the EPC report in all commercial advertisements such as a brochure and website, etc. With a new building, the builder in charge of the construction is responsible for producing the Energy Certificate. If you choose to use an estate agent to market the property, they must include a copy of the energy performance certificate report in all commercial advertisements such as a brochure and website, etc. With a new building, the builder in charge of the construction is responsible for producing the Energy Certificate. If you choose to market privately, the EPC is still a legal requirement for both sales and lettings.
If an agent is marketing the property, they must include a copy of the EPC reports document in all commercial advertisements such as a brochure and website, etc. With a new building, the builder in charge of the construction is responsible for the establishment of an original Energy Performance Certificate. And the Energy Certificate can only be produced by an accredited on-construction domestic energy assessor.
Everything you need to know about an EPC Report.
Benefits of having an EPC
The Energy Performance Certificate includes recommendations of ways you can improve your property's energy efficiency and as a result, to help the environment as well as to save you money.
What an EPC does not include
The report is simply a commentary on the current energy efficiency and the future potential. It should not be used as a condition report on either the building structure or any of the internal systems on the property.
How do I know if I already have one
It's really simple to find out if you already have an EPC online! All EPC certificates are lodged on the national database. As the certificate is valid for 10 years, many people are unaware when the previous owner had the certificate issued, or simply forget. Checking if you have an energy performance certificate online is completely free.
Domestic/Residential Properties Database
Non-Domestic/Commercial Buildings Database
Obtain an energy certificate
Since EPCs have become a legal requirement before the sale or renting of buildings can be done, it is important that you know how to get one for your property. To get an Energy Performance Certificate, you will need to hire a professional energy assessor who will inspect the building and conduct an energy assessment of the property.
During the inspection, the energy assessor will have to examine the heating installation in the building as well as other important areas. He might need to take photos and measurements, if necessary.
The examination of the building is not usually a long process. However, the duration depends on the size of the property as well as the speed of the energy assessor.
After the inspection process is complete, the data collected by the assessor during the inspection will be used to draft the Energy Performance Certificate.
Once the survey is finished, the data is uploaded into a software program which then calculates both the current level of energy efficiency and also the potential efficiency rating.
Improve your building's energy efficiency
After the EPC assessor is done with the inspection of your property he will issue a valid EPC certificate. The energy performance certificate will give a detailed breakdown of the energy efficiency of the building using a grading system of A to G.
If your building is given a poor rating it means that such a building is not energy efficient. In most circumstances, properties given poor ratings will be required to make improvements on the premises to improve the energy efficiency of the building. These improvements are often recommended in the energy performance certificate.
These improvements require funds and some of them are expensive and can take a toll on your finances. Although, if you think proactively and carry out an EPC inspection before it's too late, you can save yourself from great costs.
Before booking your EPC Certificate inspection, there are a number of ways you can improve the energy performance of your home. Some of them are as follows:
Insulate your home to reduce heat loss. This could include loft insulation, cavity wall insulation, or solid wall insulation.
Install double glazing or secondary glazing to reduce heat loss through windows.
Draught-proof doors and windows to reduce heat loss and cold draughts.
Install low-energy light bulbs.
Use a thermostat to control your central heating and only heat your home when you need to.
Close doors to rooms that are not being used.
Consider installing renewable energy technologies such as solar panels or wind turbines. These can help to reduce your energy bills and your carbon footprint.
Book your EPC certificate online
It's really quick and easy to book your EPC for property online! Through MyConstructor.co.uk the process is the simplest it could ever be. On our website, you can check reviews, and compare prices and professionals, in order to find the one that fits best for your needs. By booking your EPC certificate online, you can get instant fixed prices and easily get EPC.
Apart from fixed prices, here are some more benefits of booking your EPC online through MyConstructor:
No hidden feess during the process.
Flexible Hours and Availability.
Book any time 24/7.
Find instantly qualified professionals.
Save time and money.
Duration of the appointment
An Energy Performance Certificate survey survey takes on average anywhere from twenty minutes, for a studio apartment, to an hour for larger family homes. The main determining factor is the size of the property but the layout of the property is also a factor. Commercial, or Non-Domestic surveys can take considerably longer with some large commercial buildings taking a full day or even longer.
Check How to get EPC here.
EPCs for landlords or homeowners
You will need to obtain an Energy Performance Certificate (EPC Certificate) before marketing your property. The EPC for property must be made available to prospective tenants upon request.
You can obtain an EPC certificate by contacting a qualified and experienced EPC Assessor. The assessor will visit your property and carry out an inspection in order to produce the certificate and let you know about further improvements that can be done to improve your property's energy efficiency.
Step-by-Step process of an EPC
Step 1: Determine if you are eligible for an EPC Certificate.
Ensure that you require an EPC certificate before applying. Obtaining the certificate isn't mandatory for all properties, but they can still give you valuable advice and peace of mind.
Step 2: Find EPC Assessors
A qualified energy assessor is required to establish the property's energy efficiency. For the EPC to work and be valid, you need a competent person. Otherwise, it won't be valid.
Step 3: Obtain an EPC Price Quote
EPC certificate costs might vary, so seek an estimate first. In the assessment market, there are a variety of pricing options. With a little research on our platform, you may locate a price range that fits your budget.
Step 4: Make an Appointment with the EPC Assessor
In order to participate in the evaluation, you must arrange a time to meet. It's imperative that the owner be present when the assessor does the tests. So that you can answer any inquiries, you need to show the assessor around the property.
Step 5: Wait for the EPC Certificate
It will take a while for the findings of the assessment to be sent so that you may take appropriate action. Some businesses may provide you with an EPC in as little as twenty-four hours, according to the website.
The certificate will be sent to you through email.
The effectiveness of the location will be assessed using the rating provided in the email. Ratings range from A to G on the EPC certificate scale. The letter A receives the highest grade, while the letter rating decreases as the alphabet progresses.
Step 6: Find the EPC certificate Online
The EPC Certificate is also available on the EPC Register website. The EPC website can address any of your questions and concerns. A copy of the certificate may be obtained by searching for the report reference number or the dwelling address.
The Future Of EPCs
Energy Performance Certificates (EPCs) are used to assess the energy efficiency of buildings and to provide information on the building's energy use and carbon emissions.
The future of EPCs is likely to be shaped by a number of factors, including changes in legislation, advances in technology, and growing awareness of the importance of energy efficiency.
One key development that is likely to shape the future of EPCs is the increasing focus on sustainability and reducing carbon emissions. Many countries and governments are setting ambitious targets for reducing carbon emissions and improving energy efficiency, and this is likely to drive demand for more accurate and detailed assessments of the energy performance of buildings.
In addition, there may be changes to the way that EPCs are calculated and presented. For example, new calculation methodologies could be developed that take into account a wider range of factors, such as the impact of climate change and the use of renewable energy sources. This could help to provide a more comprehensive assessment of a building's energy performance.
Another key factor that is likely to shape the future of EPCs is the increasing use of technology in building design and management. For example, the use of smart building technologies, such as automated lighting and heating systems, could have a significant impact on a building's energy performance, and this may need to be reflected in future EPC assessments.
Furthermore, it is possible that EPCs will become more integrated into the building and construction process, with EPCs becoming an integral part of the building design and certification process. This could help to ensure that buildings are designed and built with energy efficiency in mind from the outset.
Overall, the future of EPCs is likely to be characterised by a growing emphasis on accuracy, transparency, and sustainability. As more individuals, businesses, and governments seek to improve energy efficiency and reduce carbon emissions, the demand for high-quality EPC assessments is likely to continue to grow.
Finding An EPC Near Me
When it comes to property services, we all want the best result possible! Needless to say, all property inspections deserve a thorough job well done by professionals. Your loved ones may be more than willing to suggest some professionals to you, but what if you are new to an area? At this point I bet you are wondering; So, how can I find an EPC Certificate near me? Well, look no further!
Through our platform, you can easily find professionals in your area and compare reviews and prices in order to find the one that fits your requirements. The most important thing when searching for an EPC certificate near me is to know your expectations.
What do you expect from your EPC Certificate near me service? If you are expecting a professional standard inspection, it's worth looking for verified professionals with experience. Write down your needs and take your time during research in order to choose professionals that suit your needs.
Communicate proactively! Once you find the professional of your preference for your EPC certificate near me service, you need to know your needs and exactly what you want to be done. Do not hesitate to inform the experts and let them know your requirements! This is the only way to get the best services possible!
Do research! When it comes to hiring, we all want the best ones for the job. Trustworthy and certified professionals for your EPC certificate near me will ensure that you will get the best inspection of your property.
Frequently Asked Questions About Energy Performance Certificates. (EPC)