EICRBook Your Electrical Safety Certificate Now!
EICR Certificate

Nationwide Service
Flexible hours, book a time that suits you

Same day bookings

Pay us by Card, PayPal, Google Pay, Apple Pay or Pay on-site
Find Electricians for EICR
Choose property type:
Required field!
How many bedrooms do you have?
Required field!
We're sorry, you do not qualify for the government grant.
Continue and find the best installation prices in the UK.
Congrats! You qualify for a government grant!
You could save up to £350 with a government grant for your charger.
Please enter a valid postcode or address eg. SW1A 1AA
It's the second time we've us e Lewis through my constructor and everything went smoothly. We had to reschedule our first appointment but everything went well and we got our EICR report. Lewis was responsive to my messages and calls and resolved any issues that I raised.
Pete was friendly and respectful and did his work to a good standard
Abdul was amazing! Came on time, got the job done, gave excellent advice! He was super - will definately be using again. Use him, you'll have peace of mind and won't regret it!.
Peter was pleasant, knowledgeable and offered sound advice. He arrived at the arranged time and cleaned up afterwards.
Good guys got the job done quickly and very professional. I would recommended them.
Left them a key for the property. Completed the EICR in the morning and had the report by lunch time.
Excellent job done. Really prompt, very polite and efficient at a great price. Excellent work.
Awesome experience with these guys!! Was let down on the day. Booked them, they called me..and the EICR was carried out the SAME day! Thank you..you saved the day
Highly recommend Enoch. He was right on time, very polite and carried out inspection swiftly and professionally .
Simon was very friendly, professional and competent. He did a great job. I would highly recommend!
The electrition who came to do the electrical safety checks was very polite and professional. He was there on time and explained what he was doing. I will use the MyConstructor service again. Thanks.
First time using myconstructor and Simon at Rental Comply. Couldn't fault either and would recommend without any hesitation.
Excellent, my tennants were happy wiht the service and I consider that the work was undertaken to a high standard with minimal disruption.
Great experience with my electrician. He was punctual, friendly, got the job done with ease, provided the EICR report within 24 hours and even checked the smoke/fire alarms for me. Very happy with this service and I'm keeping his number for any future needs!
Michael was very efficient and explained everything in detail we will see him on the 14th Nov to finish the job
Recently booked jobs
Electrical Certificate
with
Polarity Electri...
Electrical Certificate
with
Polarity Electri...
Electrical Certificate
with
Pritesh Vagadia
EICR Certificate
Schedule an electrical engineer at a time convenient for you and receive your Electrical Installation Certificate Report (EICR) within 2-5 business days.
Importance of an EICR certificate
An EICR, or Electrical Inspection Condition Report (Electrical Certificate), is an in-depth inspection of your property's electrical systems and installation. The inspection is to assess and identify any condition, deterioration, or defect which has the potential to result in danger.

In this electrical safety certification, all the electrical systems and installations present in residential or commercial buildings are thoroughly inspected.
A report released by Electric Safety First stated that about 20,000 electricity fires occur in the UK each year. Almost all of these are caused by electrical products, while the other 9% are caused by defective wiring.
It is the responsibility of landlords to ensure that their tenants are safe when it comes to using electrical equipment. This includes the proper installation and maintenance of electrical wires and appliances.
Are EICRs legally required?
Legislation has changed and states that from July 1st, 2020, privately rented properties will need a valid EICR Certificate - Electrical Certificate for all new tenancies and renewals. Business owners also require a valid EICR Electrical Certificate as they are legally responsible for the welfare of their staff, customers, or tenants, and could face prosecution should there be harm caused due to unsafe electrics.
If you are a homeowner, it is not a legal requirement to have an Electrical Installation Condition Report (EICR Certificate). However, it is advised that a new electrical certificate should be undertaken every five years for a privately owned property.

In addition, if you are looking to sell your property, your buyer's solicitor may well request in order for you to demonstrate regular maintenance to the property. That's why you need an Electrical Safety Certification. It is also worth noting that if you fail to maintain your electrical systems, insurance companies can use this as a reason to refuse claims.
Purpose of an electrical certificate
An EICR report must include a complete record of all checks performed to assure legal compliance. The report will include any proposed corrective steps or changes that landlords will either need to do to secure certification or to consider in the future to keep the property as safe as possible if faults or potential concerns in electrical safety are discovered.
The electrical safety inspection's goal is to;
Determine whether there are any possible safety hazards in the property's permanent installations (lights, sockets, fixtures, electric storage boiler etc.).
Identify any electrical work that has been inadequately completed and is either harmful or potentially hazardous.
Check that no electrical circuits or equipment is overloaded.
Check that the earthing and bonding are correctly done and that there is enough resistance to trip the circuit breakers in the case of a surge.
Find components of an electrical installation that do not meet the Institution of Engineering and Technology's Wiring Regulations.
What does the electrician check
An inspection for the electrical safety certification will consist of a Visual Inspection, Dead Testing, Live Testing, and sometimes, RCD Testing.
Visual Inspection
The first step for your Electrical Certificate is pretty simple. The qualified engineer will survey the installation before carrying out any testing. This will help highlight any issues caused by wear and tear, e.g. damaged cables or power switches. These are often the most obvious risks present in electrical installations.
Dead Testing
There are three aspects to dead testing - Continuity Testing, Insulation Resistance Testing, and Polarity Testing for the Electrical Certificate. These three aspects check if there are any badly connected conductors, make sure that the insulation material surrounding the conductors is intact and that the connection is connected in the right sequence.
Live Testing
This testing is to make sure that if a fault did occur, the system meets the right requirements to cause a disconnection of the supply within a time limit specified.
RCD Testing
On modern electrical systems there is also RCD testing - these are devices that are fitted to prevent fires.
That was all! Your electrical safety certification is now ready! Learn more about our EICR Test Procedure.
Issues an inspection can uncover
An EICR inspection can uncover several specific electrical issues, such as:
The sufficiency of bonding and earthing.
The presence of residual current devices (RCDs) for sockets used with outdoor electrical equipment.
The state of visible cables and leads, light fixtures, and downlighters.
The extent of damage or wear and tear on electrical installations and equipment.
The suitability of control gear and switchgear.
The serviceability of sockets, switches, light fixtures, and other electrical equipment.
Changes in the property or premises that have resulted in, or may lead to, deficiencies in the electrical installation.
Cases of "daisy chaining", where one extension cord is connected to another extension cord.
EICR codes explained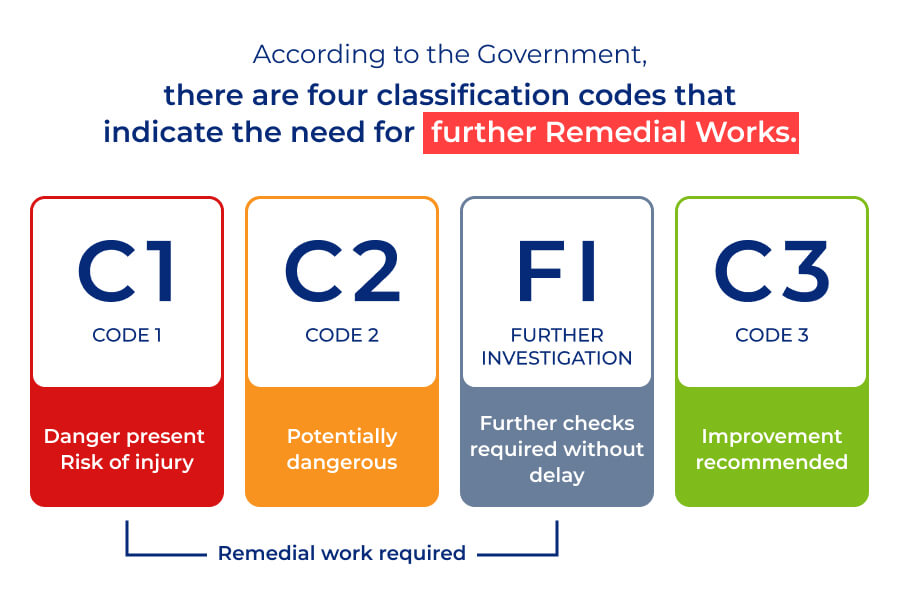 Work required is classified using the following codes:
Keep in mind that after the inspections for the electrical certificate are complete, the electrician who assessed the property may need a few days to issue the electrical safety certificate, as it may take a few days to upload and calculate findings online.
C1 - Danger is present, risk of injury is likely and immediate action is required.
In an EICR inspection, this is the code with the highest importance. If the problem is not fixed as quickly as feasible, there is a risk of electric shock or fire. Exposure of live electrical parts, damaged insulation, or broken light switches/plug sockets are all examples of C1 codes.
To fix a C1 code, either the problem must be fixed or the relevant part/circuit must be isolated and turned off.


C2 - Potentially dangerous and remedial action is needed urgently.
This indicates that while this defect is not immediately harmful in the same way that a C1 code is, it has the potential to become so in the future. The absence of mains-protected bonding or earthing, or an RCD that does not trip when tested, are examples of C2 codes.



C3 - Improvement to your electrical system is recommended.
C3 is the only classification code that can appear on a report and still pass the EICR test.
This indicates that this section of the installation does not comply with the wiring codes, although it poses no imminent hazard. Alternatively, enhancing it would improve the electrical installation's safety.
Consider this code to be a MOT 'advisory note.' You are not required to get it repaired, but it is strongly suggested that you do so.


FI- Immediate further inquiry is necessary.
This code indicates that the electrical engineer has detected a problem, but that further investigation is required. They will be able to evaluate the severity of the problem after they have done so.
Validity of the electrical certificate
Current guidelines state that for rental properties the Electrical Installation Condition Report lasts for 5 years but also recommends having the report renewed at the start of each new tenancy.
Learn everything about EICR rental properties here.
Who can issue a report?
Guidelines state that the electrical safety certification report must be carried out by a competent and qualified person. A qualified electrician in order to fill the electrical certificate, must have taken the proper courses and training that cover periodic testing and inspection of electrical installations and must be registered with scheme providers to ensure their compliance with the latest standards of safety in the field (IET 18th Edition).
It is recommended for the electrical certificate that you ask the contractor which scheme they are approved with and their electrical safety certification credentials. The most commonly recognized accreditation bodies in the UK are NICEIC, Stroma, Napit and Elecsa.
It should be noted that an electrician does not require accreditation to carry out an Electrical Certificate but should have the requisite qualifications.
EICR certificate cost
Book your Electrical Installation Condition Report (EICR) from just £69 through MyConstructor. We are confident that the pricing we offer is the most competitive in the market and our rates are not 'before' VAT so the price quoted on our site is the final price you pay for your Electrical Safety Certificate. If you are a landlord with multiple properties you can benefit from our generous discounts for block bookings on your EICR Certificates.
Here is a look at some of the best rates for your EICR Certificate - Electrical Certificate;
Electrical Safety Certificate for Studio from £69
Electrical Safety Certificate for 1 Bedroom from £79
Electrical Safety Certificate for 2 Bedrooms from £79
Electrical Safety Certificate for 3 Bedrooms from £85
Commercial vs. Domestic EICR certificate Cost
The EICR Certificate cost will vary depending on the type and size of your property.
Commercial properties usually cost more to inspect than residential ones. This is due to the general size difference, and more complex electrical installations. At MyConstructor we offer competitive market rates.
If you need more information about EICR costs we have everything you need to know listed here!
EICR report
The EICR Certificate Inspection is done to determine if there are any serious issues with a property's electrical systems.
The inspection includes a visual check of the electrical systems as well as thorough testing for relevant parts, such as interior (main system cables, electrical distribution boards, etc.) and exterior pieces (including light fittings, switches, sockets).
Such tests include Dead testing, Live testing, and RCD testing-- note that these tests will require the power to be turned off for a short amount of time!
Ultimately, the duration of the inspection for the Electrical Safety Certification to be ready, may depend on;
The size and age of the property.
The complexity of the property's power systems.
The number of circuits.
Whether there are serious issues identified during the inspection.
Will the electrician need to turn off the power?
Yes, there will be a short power outage whilst each circuit is tested. To conduct a thorough inspection, the electrician needs to access various electrical components, including sockets, switches, fuse boxes, and wiring.
Working on live electrical systems can be extremely dangerous, posing risks of electric shock or electrical fires. Therefore, to ensure the safety of both the electrician and the property occupants, it is standard practice to turn off the power during an inspection.
Duration of the appointment
The duration in order for the EICR to be ready varies greatly depending on the size of the property and the number of circuits that have to be checked. However, a small apartment can take around an hour with large homes sometimes taking up to 3 or 4 hours.
Failure of the EICR certificate
Simply having the inspection carried out is not enough if you plan to rent the property. If the engineer deems any part of the system to be unsafe or not fit for purpose then they can mark the installation as 'unsatisfactory'.
Legal Implications
The EICR Certificate Electrical Certificate Report must be given to all of the tenants before they occupy the property and when a new report is undertaken you must provide tenants with a new report within 28 days of the inspection.
Electrical faults cause almost half of all household fires in the UK and as a result, failure to comply with regulations is taken very seriously. The local authority is responsible for enforcement and they can issue civil penalties of up to £30,000 per breach of these regulations.
Where non-urgent work has been identified they must serve the landlord a notice detailing the work required and giving them 28 days to perform the work.
The landlord may make representations to this within 21 days of the notice being served.
If they do then the local authority must respond to these representations within 7 days. Until they respond the requirement to perform the work is suspended.
Lastly, if the local authority is satisfied the landlord is in breach and they have the tenant's permission to do so, they may perform emergency remedial work on the property and bill the landlord for any costs incurred.
It is also not acceptable to claim that you are not aware of any electrical issues in your property. If you are not in compliance with the electrical safety standards, then you could be charged and subjected to a fine of up to £30,000.
UK laws and regulations for EICRs
In the United Kingdom, there are several laws and regulations related to Electrical Installation Condition Reports (EICRs):
Health and Safety at Work Act 1974:This act places a duty on employers and self-employed persons to ensure the safety of their employees and others who may be affected by their work activities. This includes ensuring the electrical installations in their buildings are safe.
Electricity at Work Regulations 1989: This regulation requires that all electrical systems and equipment must be maintained in a safe condition and that electrical installations are tested at appropriate intervals to ensure their safety.
Electrical Safety Standards in the Private Rented Sector (England) Regulations 2020: These regulations require that all landlords must ensure the electrical installations in their rental properties are safe and maintained in good working order. This includes ensuring an EICR is carried out every 5 years.
Building Regulations: Part P of the Building Regulations requires that all electrical installation work in homes must comply with safety standards and be properly tested before use.
The Landlord and Tenant Act 1985: This act places a responsibility on landlords to ensure that their properties are fit for habitation, including ensuring that the electrical installations are safe and in good working order.
It is important for building owners and landlords to be aware of and comply with these laws and regulations in order to ensure the safety of their properties and those who occupy them.
What happens after the EICR inspection
Getting the results of the electrical safety certification can sometimes take a few days as the engineer will need to upload his findings in a digital format which will then be emailed to you. If your property meets the required standard then your report will be marked as 'satisfactory'. Should your EICR certificate not meet current requirements, the report will be classed as "unsatisfactory" meaning that the required work needs to be done in order to bring the installation to the required level.
As well as returning an "unsatisfactory" result, the report will then detail which part of the electrical system failed the test and why.
In an EICR examination, four codes are used. If you acquire any C1, C2, or F1 codes on an EICR inspection, it will be categorised as 'unsatisfactory.'
Remedial works
If you receive a C1 fault on your electrical safety certificate, the assessor may shut-down the property, or, if viable, remedial work will be carried out immediately. If you receive a C2 code on your EICR certificate, remedial work must be done to absolve the issue within 28 days as per UK law.
Once the repairs are complete, the landlord must update tenants and local authorities in written form that the necessary repairs have been done on time. Once completed, the Landlord must provide written confirmation to both their tenant and the local authority that the works have been carried out within the required 28 days.
Learn more about electrical remedial works.
Actions listed in EICR
Any recommendation made in an Electrical Installation Condition Report (EICR) is not legally enforceable.
However, if an accident involving your fixed electrical system occurs and your Electrical Installation Condition Report (EICR) contains suggestions that you did not implement, you will be found to have breached your legal obligations, and both you and your organisation might face criminal prosecution.
Information that EICRs contain
You will receive an EICR Certificate report following the examination. This report will include the following information:
Details about the properties that were evaluated, as well as who conducted the tests.
Any restrictions? (For example, if only a proportion of the installations were tested or if some circuits were not able to be turned off).
In accordance with the 18th edition wiring requirements, whether the inspection was good or unsatisfactory (i.e. 'pass' or 'fail') (BS 7671).
A list of all the problems found, along with their categorisation codes. Individual rooms or areas will be divided.
An inspection schedule that shows what was tested and the results of each test.
The electrical engineer will go over the EICR report with you and advise you on what work needs to be done to make any installations safe again. Then, with their help, you may plan for corrective work.
Keep the report secure; if your local government or insurance provider requests it, you may be required to submit a copy.
Frequency of EICR inspections
In general, it is a good idea to have a visual inspection of a property's electrical systems once per year. The full inspection for an Electrical Safety Certification, however, must now be done more frequently as per UK law: As of June 2020, the full inspection is mandatory at least once every five years.
A new EICR Certificate must also be produced every time there is a change of tenants.
In addition to getting the Electrical Safety Certificate every five years, you must also follow EICR guidelines to repair your property if the certificate issued after the inspection says repairs are urgently needed, as indicated by "unsatisfactory" EICR codes C2 and C1.
When repairs are done, you must notify your tenants and your local authorities in writing so that they are able to stay up to date with the property's safety status.
As a landlord, not following electrical safety certificate rules and regulations has consequences. In addition to potential legal ramifications for not following EICR Certificate guidelines (usually a fine), many insurance companies may not be willing to offer their services to you, or may reject repair claims if you fail to maintain your properties' electrical systems.
Benefits of an up-to-date EICR certificate
Compliance
With the recent change in legislation it is vitally important that you act accordingly in order to make sure you and your properties are fully compliant. Just because you have a modern installation, or there have been no issues with it, it does not automatically mean that it is safe to use and meets the current guidelines.
Electrical Safety Certificate provides Safety
As stated by the government statistics, around four people a day are injured or killed in fires connected with electrical faults, and electrical faults are the cause of almost half of all accidental UK house fires. Hence why every home should have a regular Electrical - EICR Certificate check to ensure that all electrics are safe.
Electrical Certificate provides you Insurance
More and more insurance companies are requesting that periodic inspection is carried out on a regular basis. It may be required that electrical testing is regularly carried out and evidenced as part of your policy agreement. In most cases, the EICR will tell the insurance company if the accident was avoidable and it can help strengthen your insurance claim.
With Electrical - EICR Certificate you can Save Money
Do not wait until the electrical system is not working properly because you may end up spending more money on the repairs.
If potential problems are identified early, they can be rectified before creating any further damage. In addition, the Electrical Safety - EICR Certificate offers solutions that improve the energy efficiency of the system and by reducing your energy consumption, you can also save money.
The EICR Certificate provides Energy Efficiency
While the Electrical Safety Certification is mandatory under UK law, the certificate's suggestions for energy efficiency and reducing energy consumption can also help you to save money.
Remember, the EICR certificate's recommendations are tailored to be specific to your property;
This means that you can follow its suggestions for keeping the property safe and keeping electricity usage to a minimum alike. If you have questions or would like further advice about electrical safety and efficiency, it's also worth speaking to the electrician who issued the certificate for tips specific to your building.
Frequently asked questions regarding the Electrical Installation Condition Report (EICR).