Find A Retrofit Coordinator
Retrofit Coordinator

Nationwide Service
Flexible hours; Book a time that suits you

Same Day & Next Day Bookings

High Quality Home Retrofitting Services

Free Cancellation Policies

Pay us by Card, PayPal, Google Pay, Apple Pay or Pay on-site
Find A Retrofit Coordinator
How many bedrooms do you have?
Required field!
We're sorry, you do not qualify for the government grant.
Continue and find the best installation prices in the UK.
Congrats! You qualify for a government grant!
You could save up to £350 with a government grant for your charger.
Please enter a valid postcode or address eg. SW1A 1AA
I have marked "Reliability" as 3 stars as there was no real basis for assessing this characteristic. Julija carried out her examination of the property very fully and effectively, and her report is very useful. Her accent made communication a little problematic some of the time, but this was not a serious issue. I would have no hesitation in recommending her to anyone needing an assessment of their property.
All went OK and was what I expected. Not yet read report since I am very busy!!
Damien did a thorough assessment and is now following up some best options for me. Professional, informative and cheerful.
David asked the same questions multiple times and it was clear that he did not understand well what we did in our home renovations and the impact as his interpretation and application of regulations did not instill confidence. We subsequently used another person on the site who has been rated 5 star and the difference in knowledge and understanding was significant. If your property is standard or simple then you may like to select him.
The assessment went well and seemed productive but the report is yet to come
Firstly we waited in for this assessor, and when I called him through your switchboard he said he could only make it at 4pm. This meant his time was shorter. We did not pay him anything although we were advised to do so, as he said we would have is report within 48 hours and we could pay him online. he also smelt of body odour. we still await his report.
Joe, is highly efficient & professional... Keep up the good work My Constructor.
Recently booked jobs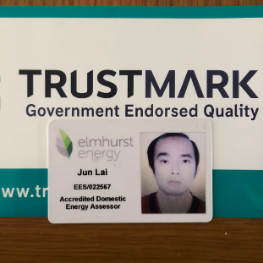 The Role of a Retrofit Coordinator
Retrofit Coordinators are in charge of organising and coordinating our home retrofit projects and assuring quality and minimising risks while offering assistance and confidence to our homeowner clients.
The UK Government has pledged to achieve net-zero carbon emissions by 2050, including renovating the country's housing sector. By making the home conversion procedure as easy as possible, Cosy Houses Oxfordshire is trying to improve the energy efficiency of homes around Oxfordshire substantially.
What exactly is a Retrofit?
The term "Retrofit" refers to adding insulation to an existing structure without altering its structural integrity to improve the building's energy efficiency. Of course, this work is often combined with another improvement, such as a kitchen renovation.
Other techniques to enhance the performance of buildings, such as changing windows, mechanical ventilation and heat recovery, and employing heat pumps (to replace gas boilers) as a heat source, are now included in the term retrofit.
Keeping the Heat Inside
As heat loss via surfaces is decreased by adding insulation, the other form of heat loss - heat loss due to air leakage - becomes more essential, accounting for up to half of all heat lost from a structure. This is because our houses are often leaking.
The higher the necessity to take steps to regulate the flow of air through 'mechanical extract ventilation (MEV) [3], the less air escapes from a structure. The unregulated flow of air is replaced with a controlled flow.
Controlling airflow is vital in dealing with condensation concerns and providing adequate (but not too much!) fresh air in a house. It is feasible to extract heat from extracted damp air by removing moisture from the flow. This heat is then returned to the building as dry, warm air (a process known as mechanical ventilation and heat recovery (MVHR) [4].
Why Is It Important to Retrofit Your Home?
By 2050, the UK must cut greenhouse gas emissions to 80% of 1990 levels, according to the Climate Change Act 2008.
By 2035, we must have retrofitted all houses to an EPC band C level to achieve the UK government's climate change objectives. As a result, one of the most important questions each homeowner should ask is, "How energy efficient is my home?".
Housing efficiency is one of the most important strategies to cut carbon emissions and offers us the greatest chance of fulfilling the objectives of reducing fuel poverty and creating healthier homes.
We're working with the government and businesses to enhance the quality of UK housing stock via new laws and standards. The Energy Company Obligation (ECO3) is the government's effort to make UK houses more energy-efficient, and it is targeted only at low-income or fuel-poor families.
Retrofit Coordinator Responsibilities
The primary responsibility of a Retrofit Coordinator is to identify, analyse, and manage the technical and procedural risks that are frequent in household retrofit projects. This ensures that energy efficiency measures are designed, specified, monitored, and evaluated after installation in line with PAS 2035:2019.
A Retrofit Coordinator is usually in charge of:
From start to completion, project management and client and public protection in planning, organising and administering the project.
Assuring that household retrofit projects are safe, high-quality, and achieve their full potential.
Providing knowledgeable guidance and assistance to consultants and contractors.
Assuring customers that project risks are being properly handled and maintaining project quality.
Each project undergoes an initial and ongoing risk assessment.
Client report, carbon calculations, medium-term strategy, and alternatives evaluation are all completed.
Overview of energy efficiency measure(s) installation, including toolbox talks if needed.
Conduct a post-construction assessment to establish the project's overall success and ensure that lessons learnt are applied to future initiatives.
Sign off on the project's compliance with PAS 2035:2019 and submit it via the TrustMark data database.
What a Retrofit Coordinator Does?
Are you thinking about retrofitting your house and want to know what a Retrofit Coordinator does?
Retrofit Coordinators take a hands-on approach to decreasing your home's energy usage, spending days with house assessments, customised consultations, energy audits, and site inspections. Their knowledge guarantees that your current house is healthy, energy-efficient, and ready to deal with climate crises.
Our Retrofit Coordinators are hand-picked, trained home retrofit professionals who will be assigned to you when our staff has reviewed your property registration form.
Retrofit Coordinators are at your side throughout your home retrofit journey, ensuring that any work highlighted by your Whole House Plan is completed at the appropriate time for you and your house. They also link you and the contractors and quality control specialists for your peace of mind.
Your home retrofit professional is a Retrofit Coordinator who certifies housing standards in the following ways:
Evaluate your home's energy efficiency.
Our Retrofit Coordinators, equipped with all of the necessary instruments, will determine any heat losses by drawing out a floor plan of your home using the information gathered during your home assessment visit.

They also evaluate the efficiency of your house by examining your operating expenses (fuel bills), energy consumption (kWh), and environmental effect (kgCO2 emissions).


Create a report on your whole house plan.
A whole-house plan is a customised report with energy and retrofit suggestions for your house. Our Retrofit Coordinators will assemble their suggestions in a complete report after your home energy evaluation.

The paper lays out a series of steps to enhance your home's EPC rating, lower your energy costs, and lower your carbon emissions.


Walk you through your home improvement alternatives for retrofitting.
Myconstructors' Retrofit Coordinators will walk you through the energy-saving solutions recommended in your Whole House Plan report using their technical expertise.
They can talk you through your alternatives, get bids from contractors, supervise any work done, and help you make the best selections for your home and family.
Get a Retrofit Coordinator for your Property
A Retrofit Assesment Service includes a retrofit evaluation of your home. They are the first step in identifying important adjustments to make your house happier, healthier, and more welcoming.
With the PAS 2035 standard, the Retrofit Coordinator created a new profession. This function is critical to the execution of household retrofits in the UK.
All household retrofit projects must have a Retrofit Coordinator whose role is to supervise the management and design of all retrofit measures, according to PAS 2035. Retrofit Coordinators must get the Level 5 Diploma in Retrofit Coordination and Risk Management to fulfil this critical function.
The Retrofit Coordinator's Responsibilities
Looking into retrofitting your house but don't know what a Retrofit Coordinator is responsible for?
Retrofit Coordinators spend their days conducting home assessments, customised consultations, energy audits, and site visits to help you save money on your utility bills. It's their experience that guarantees that your current house is safe for you and your family to live in, as well as environmentally friendly.
Once your house registration form is evaluated by our staff, one of our Retrofit Coordinators will be assigned to you.
Book your Retrofit Assessment Appointment Through MyConstructor
Hiring a professional Retrofit Coordinator through MyConstructor means that you can rest assured that you will improve the energy efficiency of your property and thus minimize your billing costs.
We have gathered the best professionals in their field for your Retrofit Assessment!
Through our platform you can easily find professionals in your area and compare prices and their reviews. Be aware in advance for your needs and preferations, so you can book the best bet!
Frewquently Asked Questions About Retrofit Assessments
A retrofit assessment is a process that involves making a structural or interior improvement to an existing building. This can be done to improve the building's energy efficiency or it can be done to make it more comfortable to live in. Besides improving the building's energy efficiency, a retrofit also can be carried out to increase the value of the property.
There are various reasons why a retrofit might be necessary on your home or office. If your energy bills are starting to rise, or if your home or office is feeling like it's drafty, it's time to consider having a retrofit. Besides improving the building's energy efficiency, a retrofit can also be carried out to increase the property's value.