Oven Cleaning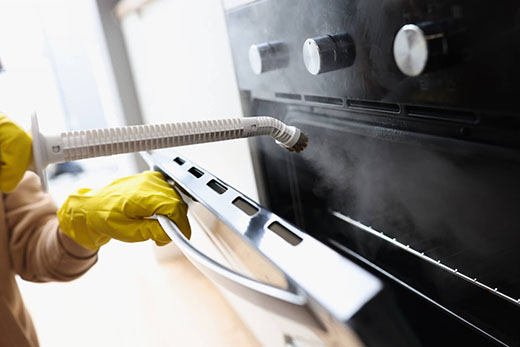 Professional Oven Cleaning - Nationwide Service
High-Quality & Eco-Friendly Professional Equipment

Dirt & Stain Removal

Flexible Hours; Book a time that suits you

Same & Next Day Bookings

Pay us by Card, PayPal, Google Pay, Apple Pay or Pay on-site
Find Oven Cleaners In Your Area
What's the type of appliance that needs cleaning?
Required field!
Would you like any of the following to be cleaned?
Required field!
We're sorry, you do not qualify for the government grant.
Continue and find the best installation prices in the UK.
Congrats! You qualify for a government grant!
You could save up to £350 with a government grant for your charger.
Please enter a valid postcode or address eg. SW1A 1AA
I was thoroughly impressed and would definitely use again for oven cleaning
The best ever. No words would be good enough the best ever you could have. No rush took time and delivered outstanding results.would highly recommend.
Very nice man super job as it was not easy,just moved in so pleased to have a really nice clean oven etc
Very freindly and clean contractor. Took his time to clean the double oven and the cooker's hood. Very happy with work
Excellent service....Will recommend to friends and family. Went the extra mile.
An excellent experience. Leandro arrived exactly on time and did a great job. Thank you
Recently booked jobs
57 minutes ago in Greater London
4 hours ago in Bexleyheath
Professional Oven Cleaning
Keeping your oven clean and well-maintained is crucial for ensuring its longevity and efficiency. However, cleaning your oven can be a time-consuming and stressful task, especially if you don't have the right equipment. That's why many people opt for professional oven cleaning services.
Oven interiors are easy to ignore because they are usually out of sight and out of mind. Food particles and crumbs can get trapped in the oven easily, and eventually can cause fire safety issues if not addressed. Grimes, grease, mould and other bacteria can also build up in the oven over time if not maintained, potentially leading to health issues.
In reality, regular oven cleaning (especially professional cleaning) is key to maintaining your oven while ensuring fire safety for you and your roommates, family, and pets.
The importance of professional oven cleaning
Professional cleaning services for ovens are especially helpful for those who have not cleaned their oven in a long time, or for those who want to restore their oven to like-new condition. It can be a time-consuming and challenging task to clean an oven, especially when dealing with stubborn stains and burnt-on food.
By using a professional oven cleaning service, you can save time and effort, and ensure that your oven is cleaned to the highest standards. Additionally, regular professional oven cleaning can extend the lifespan of your oven and help it perform more efficiently.
How often should I clean my oven?
The frequency with which you should clean your oven depends on how frequently you use it. For those who use their oven frequently, such as for daily cooking, it is recommended to clean the oven every 3-6 months. If you use your oven less frequently, you may only need to clean it once or twice a year.
Why hiring an oven cleaner is worth it
While possible, cleaning an oven can be difficult and time-consuming without professional help, especially if the oven has not been cleaned in some time.
Greases can build up and stick to surfaces over time, becoming more difficult to remove without the right cleaning materials and equipment. It is for these reasons that many individuals opt instead to hire a professional when it comes to cleaning their oven. Oven cleaners can easily undertake the daunting task of cleaning your oven for you in no time! They will take away all the stress and hassle that comes with the cleaning itself.
The standard oven cleaning process
The cleaning process of your oven by a professional typically involves several steps to ensure a thorough and effective cleaning.
As the day for your appointment arrives, the professional you chose will come fully-equipped in order to undertake the task. You can be as much involved as you want to, for instance you can go through the manual together or choose the method of cleaning that fits your preferences etc.
Once everything is set, it's time for the actual oven cleaning process. Your qualified professional will use a combination of methods in order to achieve best results.
Here are the general steps involved in the professional cleaning process:
Pre-inspection: The cleaner will inspect the oven to identify any areas that require extra attention or special treatment.
Protective measures: Professional will take measures to protect the surrounding area, such as covering nearby surfaces and placing protective sheets on the floor.
Dismantling: The cleaner will dismantle the oven door and any removable parts, such as racks and trays, to facilitate cleaning.
Soaking: The cleaner will soak the dismantled parts in a special cleaning solution to loosen and dissolve any accumulated grime and grease.
Scrubbing: The cleaner will use a non-abrasive scrubbing pad to remove any stubborn stains or burnt-on food residue.
Steam cleaning: Professionals may use high-temperature steam cleaning to sanitise and remove any remaining debris from the oven.
Reassembly: The cleaner will reassemble the oven door and any removable parts.
Final inspection: The cleaner will inspect the oven to ensure that it is clean and free of any debris or grime.
Overall, a professional oven cleaning service uses specialised equipment, cleaning agents, and techniques to ensure a thorough and effective cleaning of your oven, leaving it looking and performing like new.
Professional oven cleaners use specialised equipment to remove even the toughest stains and burnt-on food from your oven. They may use a combination of steam cleaning, high-temperature cleaning, and specialised cleaning to achieve the best results.
Some common cleaning methods used by professionals include degreasers, alkaline solutions, and non-abrasive scouring powders. The exact cleaning methods used will depend on the type and severity of the stains, as well as the type of oven being cleaned.
Oven cleaning service cost
The cost of a professional oven cleaning near you can depend on a number of factors, including the size, upkeep, and the age of the oven. In addition to paying for the cleaning itself, keep in mind that you are paying for the expertise of the cleaners you hire to take on the job.
Price estimates for a professional oven cleaning service are as follows:
Oven Cleaning Service for Single Oven: £40
Oven Cleaning Service for Double Oven: £65+
Oven Cleaning Service for AGA Cooker/Oven: £100-130+, depending on model and condition.
If you are looking to clean the oven's stovetops, keep in mind that this may be an additional fee. The professional team that comes to clean your oven, furthermore, may also be able to clean grills and other cooking appliances for a bundled rate or package. Learn more about oven cleaning costs.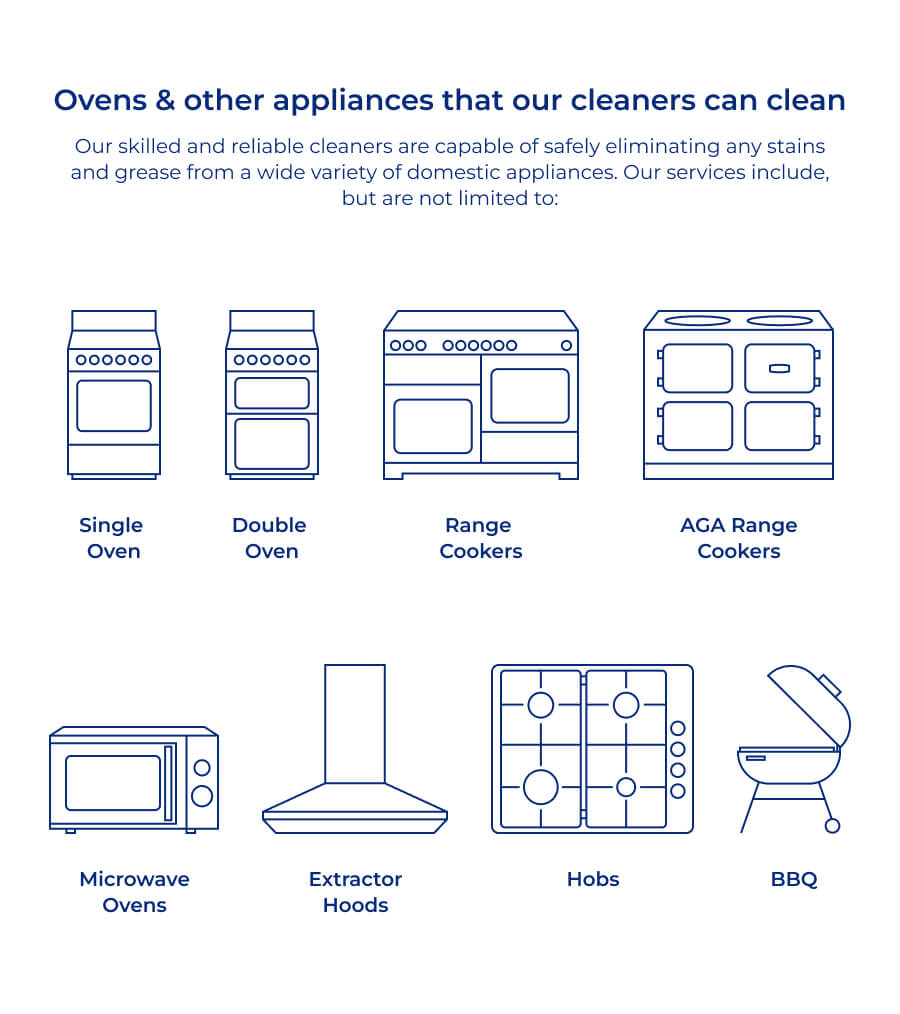 Oven cleaning service benefits
Frequently cleaning your oven ensures it will last a long time, and also can help prevent buildup in the oven from catching fire. Bringing in a professional, furthermore, will also save you time and stress.
If you are moving out of your apartment and are conducting an end of tenancy cleaning, ask your landlord in advance if they will also require the oven to be cleaned. Some may expect a light cleaning or degreasing, while others may request you schedule a professional oven cleaning service. If this is a requirement, hiring a professional to do the oven cleaning can help you ensure the job is done properly, thus ensuring you receive the entirety of your security deposit back.
Here are some of the benefits of professional cleaning:
Reduced risk of fire hazards: A dirty oven can be a fire hazard, as grease and food debris can accumulate on the heating elements and ignite. Professional cleaning can remove these hazards, giving you peace of mind when using your oven.
A deeper, more thorough cleaning process: Professional oven cleaners use a thorough cleaning process that includes disassembling and cleaning all the removable parts of your oven, such as racks and trays. They also clean the oven's interior and exterior surfaces, leaving your oven spotless and free of any lingering odours.
Time-saving: Cleaning your oven can be a time-consuming and messy process. By hiring a professional oven cleaner, you can save time and avoid the hassle of cleaning your oven on your own.
Improved performance: A dirty or greasy oven can impact its performance, as it may take longer to preheat or cook food. By having your oven professionally cleaned, you can improve its performance and cooking efficiency.
Prolongs the lifespan of your oven: A clean oven not only performs better, but it can also prolong the lifespan of your oven. Regular cleaning and maintenance can prevent buildup of debris and grime, which can lead to damage or wear and tear on your oven.
Safe cleaning: Professional oven cleaning services use safe and eco-friendly cleaning agents that are not harmful to the environment or your health. This ensures that your oven is cleaned without any negative impact on your health or the environment.
Overall, professional oven cleaning provides a more thorough and effective cleaning, saving you time and hassle, improving the performance of your oven, and prolonging its lifespan. It's a safe and eco-friendly option that reduces fire hazard and ensures a clean and hygienic cooking environment.
DIY oven cleaning
Cleaning your oven on your own can be a challenging task, but it's certainly doable with the right approach and tools.
Oven cleaning tips by our professionals
Here are some steps to help you clean your oven effectively:
Prepare the area: Start by preparing the area around your oven, such as removing any loose debris, covering the floor with newspaper or a drop cloth, and ensuring proper ventilation by opening a window or turning on a fan.
Remove the racks: Remove the oven racks and set them aside in a sink or bathtub filled with warm, soapy water. Let them soak for a few hours to loosen up any grime and grease.
Make a cleaning solution: Make a cleaning solution by mixing a half-cup of baking soda with a few tablespoons of water to form a thick paste. You can also add a few drops of essential oils or lemon juice for a fresh scent.
Apply the paste: Use a sponge or a brush to apply the paste on the interior walls, floor, and ceiling of the oven. Avoid applying the paste on the heating elements or the oven door gasket.
Let the paste sit: Allow the paste to sit for several hours or overnight to loosen up any dirt and grime. The longer you leave the paste on, the more effective it will be.
Scrub the interior: Use a non-abrasive scrubber to scrub the interior walls, floor, and ceiling of the oven. Make sure to remove all the paste and any dirt and grime it has loosened.
Clean the racks: Use a scrubber or a brush to clean the oven racks thoroughly. Rinse them with warm water and dry them before putting them back into the oven.
Wipe down the interior: Use a damp cloth to wipe down the interior of the oven to remove any remaining residue or cleaning solution.
Turn on the oven: Turn on the oven to 200°C (400°F) for about 15 minutes to dry out any remaining moisture.
By following these steps, you can effectively clean your oven on your own. However, it's important to note that professional cleaning services offer a more thorough and deep clean of your oven, which can be beneficial in the long run.
The best way to clean the inside of an oven
The best way to clean the inside of an oven is by using a combination of baking soda and vinegar.
First, remove any loose debris and crumbs from the oven.
Then, mix a paste of baking soda and water, and apply it to the interior surfaces of the oven. Let the mixture sit for a few hours or overnight.
Next, wipe away the baking soda mixture with a damp cloth.
Note: For stubborn stains or burnt-on food, you can use a scraper or a non-abrasive scrubbing pad.
The best thing to clean a very dirty oven on your own
If your oven is very dirty, you can use a commercial oven cleaner that is specifically designed to remove tough stains and burnt-on food. Be sure to follow the instructions carefully and take appropriate safety precautions, such as wearing gloves and ensuring good ventilation in the room. Alternatively, you can use a baking soda and vinegar mixture as described above.
The easiest way to deep clean an oven
The easiest way to deep clean an oven is by using a professional oven cleaning service. These services use specialised equipment and cleaning agents to remove even the toughest stains and burnt-on food, leaving your oven looking like new. However, if you prefer to clean your oven yourself, you can use a combination of baking soda and vinegar, as described above, or a commercial oven cleaner.
Things to know before the appointment
Booking an oven cleaning appointment is a great way to keep your oven clean and functioning well.
Here are some things you should know before booking your appointment:
Type of oven: Make sure you know what type of oven you have, as different types of ovens require different cleaning methods. For example, a self-cleaning oven may require less intensive cleaning than a non-self-cleaning oven.
Time required: Find out how long the cleaning will take, so you can plan accordingly. Some oven cleaning near me services may take several hours, while others may only take an hour or two.
Access: Make sure the service provider will have easy access to your oven. If there are any obstacles or if the oven is located in a hard-to-reach area, inform the service provider beforehand.
Aftercare: Ask the service provider about any aftercare instructions you should follow to keep your oven clean and functioning well. This may include tips on how to avoid spills and stains, as well as recommendations for cleaning products you can use to maintain your oven between appointments.
Oven Cleaners services offered
Except for professional cleaning service, hiring an expert oven cleaner can benefit you in more ways than you think. He/She can undertake extra services you might want to try out.
Other cleaning services you can benefit from a professional oven cleaner:
Barbeque (BBQ) cleaning
Professional oven is essential for maintaining the hygiene and efficiency of your outdoor cooking equipment. Over time, grills accumulate grease, food residue, and carbon deposits that not only affect the taste and quality of your food but also pose potential health risks.
By entrusting the BBQ cleaning to experienced professionals, you ensure thorough cleaning of all components, including grates, burners, and drip pans, removing stubborn buildup and preventing the growth of harmful bacteria. Regular professional cleaning not only enhances the flavour of your grilled delicacies but also extends the lifespan of your BBQ, saving you from costly repairs or replacements.
Additionally, a sparkling clean BBQ creates a positive impression during gatherings and social events, reflecting your commitment to cleanliness and professionalism.
Our professionals can easily undertake the cleaning of your BBQ. They'll come to your place fully-equipped in order to make your BBQ sparkle in only a few hours. This task is something really difficult to do all by yourself because there are a lot of spots you cannot reach on your own. Also, cleaning your BBQ requires professional tools that are hard to find.
Let our professionals take over the BBQ cleaning process and offer you a professional result.
AGA cleaning
Professional AGA cleaning plays a vital role in maintaining the functionality and appearance of this iconic kitchen appliance. AGAs are known for their exceptional cooking capabilities, but over time, they can accumulate grease, carbon deposits, and food residue that affect their performance.
By hiring professional AGA cleaners, you ensure a thorough and meticulous cleaning of all components, including ovens, hotplates, and flues. This not only enhances the efficiency of your AGA but also ensures even heat distribution and eliminates any unpleasant odours. Moreover, professional cleaning helps to extend the lifespan of your AGA, reducing the need for costly repairs and replacements.
A clean AGA not only looks visually appealing but also provides a safe and healthy cooking environment, free from potentially harmful contaminants. By investing in professional AGA cleaning, you can enjoy the full benefits of this exceptional appliance while maintaining its pristine condition for years to come.
Range cooker cleaning
Professional range oven cleaning is crucial for maintaining a clean and functional kitchen.
Range ovens are exposed to frequent use and can quickly accumulate grease, food residue, and stubborn stains, which not only affect the taste and quality of your meals but also pose potential health hazards. By relying on professional cleaners, you can ensure a thorough and comprehensive cleaning of all parts of the range oven, including the burners, racks, interior walls, and door glass.
This deep cleaning eliminates baked-on grime, grease, and odors, restoring the oven's efficiency and allowing for even heat distribution. Additionally, professional range oven cleaning helps to extend the lifespan of your appliance, as built-up residue can cause damage over time.
By maintaining a clean oven, you create a healthier cooking environment and enhance the overall aesthetic appeal of your kitchen. With professional range oven cleaning, you can enjoy delicious meals without worrying about the cleanliness or performance of your oven.
Finding a professional oven cleaner near me
It is a common question for many people in the United Kingdom "How challenging is it to find professional oven cleaning services near me?"
Undoubtedly, a thorough oven cleaning is an essential part of the end of tenancy process, as it is as a general cleaning task. However, contacting cleaning companies directly and without prior knowledge about their reputation or the quality of their work can be a source of stress when searching for Oven Cleaning Services near you.
When it comes to finding reliable oven cleaners near you, our platform is the ultimate solution. Instead of the hassle of randomly searching online or making numerous phone calls, our website provides a convenient and efficient way to connect with professional oven cleaning services in your area.
Typically, cleaning companies possess extensive knowledge and expertise in the procedures involved in Oven Cleaning. However, it is advisable to communicate with the cleaners beforehand and inform them regarding your specific requirements.
What type of oven do you own (e.g., gas, electric, convection)?
Are there any specific features, settings, or any special instructions or limitations provided by the manufacturer?
Are there any known issues or problem areas that the cleaner should be aware of?
This knowledge ensures that the cleaner can tailor their approach, use appropriate cleaning products and techniques, and avoid any potential damage or complications while restoring the oven to its optimal cleanliness.
Schedule a cleaning in your own home or rental property!
Looking to hire a professional to clean your oven? Unsure where to start, or want to make sure you can get the job done under a budget? Let us give you a hand!
Our website, can help you get in touch with trusted, seasoned professionals to help you complete any home improvement project. Try today and search by area and price, leave and read reviews, and get a quote. While the website can help you find a professional, these extended features mean our website is also a helpful way to learn about professional services for any task you're considering getting done in your home or rental property.
Rest assured that with our assistance, you'll find the right professional who can help clean your oven for the right price!
Frequently Asked Questions About Oven Cleaning