Non-Domestic EPC
Non-Domestic EPC

Nationwide Service
Flexible hours, book a time that suits you

Same day bookings

Pay us by Card, PayPal, Google Pay, Apple Pay or Pay on-site
Find Experienced Energy Assessors
Choose property type:
Required field!
We're sorry, you do not qualify for the government grant.
Continue and find the best installation prices in the UK.
Congrats! You qualify for a government grant!
You could save up to £350 with a government grant for your charger.
Please enter a valid postcode or address eg. SW1A 1AA
Alan was very efficient, friendly and professional. Due to a traffic hold up he was a 15 minutes late. This happens but a telephone call to let me know would have been appreciated.
Peter was very accommodating with his schedule as I dug up some documents related to renovations done at the property, which was much appreciated. He was very professional and clearly explained all the processes.
Carried our work in a professional and capable manner. True to his word the report was downloaded on the same day of inspection. Definitely 5 stars.
Stephen was excellent. Quoted promptly turned up on time did what he was supposed to do, and provided the report fast could not ask for any more. Thank you, Stephen.
Ricky was very professional, punctual and polite. He provided an excellent service when giving me a commercial EPC. I would highly recommend him based on my experience.
Amrit Kooner EPC accessor was very professional, friendly and extremely efficient.I would definitely recommend him. As promised he uploaded EPC next working day.
Had a Energy Certificate (EPC) done with George. A very professional service and friendly. He knows the house structure just by looking at it. Highly recommended.
Simple & easy from start to finish. George was on time, explained his process and followed it. All done within 45 mins and we had the certificate in hand within a few hours. Fantastic job. Thanks George.
Jack arrived on time, and was friendly, he took time to explain what he was checking. he is very professional and clean and tidy. He even sent me the EPC certificate that same day. would definitely recommend his service.
Very happy with the service provided. Kayne was friendly, professional and communicated with us well. We received the certificate within hours of his visit. Would thoroughly recommend.
They are totally efficient and accurate, well trained for the job. They treat your property with respect. And you get your ECP the same day. I also liked highly competitive pricing.
Efficient and effective. Was slightly early on the day, and just got on with it! Had the certificate cleared with my mortgage company within 24 hrs. Couldn't ask for more.
Communication was great, had to rearrange, which was absolutely fine for us, came on time and certificate was produced within 3 working days. Great service.
Sean was timely, efficient, helpful with explanations and considerate while getting on with his job. Would happily recommend. Invoice as expected. Altogether a good experience. Thank you.
Nothing to dislike, Aso is a Thoughtful consider professional who wears foot covering when entering my tenants home. Excellent communication. He is curtious and considerate when he does his work and I wil lcontinue to use his professional service for all my EPC's
Very professional. Communicated well from start to finish. He asked me a few questions then got on with his work. Informed me on his completion and left the property spotless.
Really nice helpful guy with great understanding of area. Have a lot of constructive feedback on current compliance with regs and good advice on how to improve efficiently.
The contractor was very polite and courteous. He called to let me know when he was stuck in the traffic and would be slightly late. He was very knowledgeable and helpful. He answered my questions and made interesting recommendations to improve the energy efficiency of my property.
Kyle was very helpful and very honest. He actually called me ahead of time to say that he'd checked and my epc was valid until 2029 and didn't need updating so It was pointless me spending the money. How many people would do that? Very kind of you Kyle and very honest so thank you very much. I would not hesitate to recommend!
Contractor arrived on time, was pleasant and courteous. Report was read to view within a few hours following completion. Definitely recommend as good value for money
Recently booked jobs
Non-Domestic EPCs: Their Importance, Requirements And Benefits
A non-domestic EPC (Energy Performance Certificate) is a legal requirement for commercial buildings in the UK, which rates a building's energy efficiency on a scale from A (most efficient) to G (least efficient).
Here, we'll explore what a non-domestic EPC is, why it's important, and how building owners and occupiers can use it to improve energy efficiency and save money.
What Is A Commercial/ Non-Domestic EPC?
EPCs, known also as Energy Performance Certificates , are detailed reports into the energy efficiency of a property or building. EPCs are divided into two further subcategories, Domestic and Non-Domestic. Domestic, or Residential EPCs, illustrate the efficiency rating of privately owned houses and apartments. Non-Domestic, or Commercial EPCs, provide ratings for buildings such as offices, restaurants or retail shops.
The purpose of a non-domestic EPC is to assess a building's energy efficiency and provide recommendations for improving it. The report includes an EPC rating on a scale from A to G, with A being the most efficient and G being the least efficient.
Is The Energy Certificate A Legal Requirement?
This all depends on your intentions for the property. Those looking to market their property for sale or for rent will legally require to have a certificate lodged on the Non-Domestic EPC Register. Recent legislation changes mean it is now also a requirement to have a valid EPC even if your property has existing tenants in place already.
The Minimum EPC Rating to Let or Rent a Property
The minimum EPC rating required for a non-domestic property is an E rating. This means that a building must achieve a rating of E or above in order to comply with the legal requirement for non-domestic EPCs.
Here's an example of an EPC rating on C for a commercial property.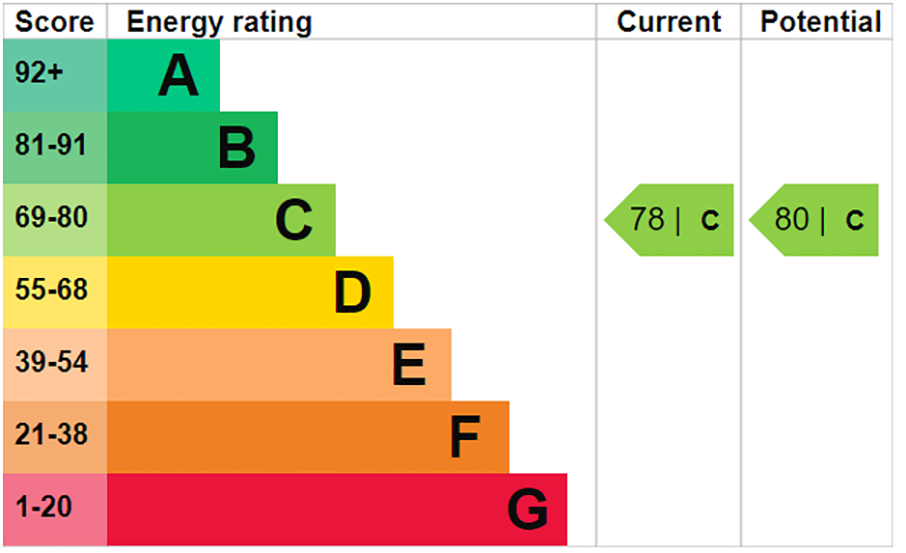 Why Non-Domestic EPCs Are Important
Non-domestic EPCs are important for building owners and occupiers for several reasons.
Firstly, they provide an assessment of a building's energy efficiency and identify ways to reduce energy consumption, which can result in significant cost savings over time.
Secondly, they contribute to the UK's efforts to reduce carbon emissions and combat climate change by encouraging the adoption of energy-efficient technologies and practices.
Who Can Carry Out The Report?
If you wish to get an Commercial EPC for your property then you will need to appoint a fully qualified Non-Domestic Energy Assessor who is currently registered with the Non-Domestic EPC Register.
What Does An Energy Assessment Involve?
Your assessor will need access to the entirety of the property in order to properly measure the property, so please ensure that they have access to all areas. Next, they will then examine the key items in the property such as any heating and cooling systems, the presence and levels of the insulation, the type of glazing and material of the window frames, as well as the hot water and lighting systems.
After completion of the survey, your assessor will upload the data into a program which calculates the current level of energy efficiency. This program also then generates the potential efficiency rating of the property.
Duration of the Inspection
Commercial energy certificate surveys can vary a lot in terms of the time needed to complete the inspection. Property size is the main factor but the layout and accessibility can also be factors. Some commercial inspections can take up to a day to complete the on-site survey and a further couple of days to write up.
Non-Domestic EPC Report Validity Period
Once the EPC survey has been carried out and the assessor has uploaded the data, a draft certificate is produced. After the assessor has double checked all of the information and they are satisfied with it, they will then lodge the certificate on the Non-Domestic EPC Register. After the certificate is lodged, it is valid for a period of 10 years.
It is worth noting that should you make any significant improvements or changes to the property within that time it is recommended that you have a new certificate issued.
Do I Need A Domestic Or Commercial EPC?
The difference between domestic and non-domestic EPCs is that domestic EPCs are required for residential properties, while non-domestic EPCs are required for commercial properties.
The criteria for determining whether a building requires a domestic or non-domestic EPC are based on its use and intended purpose.
Improving Energy Efficiency With Non-Domestic EPCs
Building owners and occupiers can use non-domestic EPCs to identify and prioritize energy-saving measures, such as upgrading lighting systems, improving insulation, or replacing inefficient equipment. The report includes recommendations for cost-effective improvements that can result in significant cost savings over time.
How Do I Know if I Already Have One
Given that the energy performance certificate is valid for such a long time, we can easily forget if our certificate is still valid, or when it needs to be renewed. You don't need to worry though as you can easily and quickly see if you have one by going to the Non-Domestic EPC Register and entering the postcode of the property - Non-Domestic/Commercial Buildings Database
Minimum Energy Efficiency Standards (MEES) Legislation
As of April 2018, there is a minimum rating requirement of an 'E' for those looking to rent their property. If you plan to sell the property then there are currently no minimum rating requirements. Any failure in doing so will mean you will be unable to grant a new lease.
Starting April 1, 2023, all privately rented non-domestic properties, including those without changes in tenancy, must achieve a minimum EPC E rating for non-domestic landlords unless they possess a valid exemption registration.
How Non-Domestic EPCs Work
Commercial EPCs are conducted by qualified assessors, who evaluate the building's energy efficiency based on factors such as insulation, lighting, and heating and cooling systems.
The assessment takes into account the building's size, age, and usage. The report includes an EPC rating, as well as recommendations for improving energy efficiency, such as the installation of energy-efficient lighting or insulation.
Compliance With Non-Domestic EPC Requirements
Non-compliance with commercial EPC regulations can result in penalties, including fines and legal action. It's important for building owners and occupiers to ensure that their buildings have a valid non-domestic EPC, and to take action to improve energy efficiency where possible.
The Future Of Non-Domestic EPCs
EPCs are currently used to evaluate the energy efficiency of buildings and their carbon emissions. The future of EPCs will be affected by various factors, such as changes in regulations, technological advancements, and increased awareness of energy efficiency.
The trend towards sustainability and carbon emission reduction is a key driver of changes in EPCs. This means that more detailed and accurate assessments will be required for buildings' energy performance.
In addition, EPCs will probably undergo changes in their calculation methods and presentation. This may include a broader range of factors, like the impact of climate change and renewable energy sources, for more complete assessments.
The increasing use of smart building technology will also shape the future of EPCs. Buildings' energy performance can be significantly influenced by automated lighting and heating systems, which might require reflection in future EPC assessments.
EPCs could be integrated further into building design and certification processes, ensuring energy efficiency is a key consideration from the outset.
In summary, EPCs' future is characterized by a focus on accuracy, transparency, and sustainability, driven by the increasing demand for high-quality assessments from individuals, businesses, and governments committed to energy efficiency and reducing carbon emissions.
How Do I Book A Non-Domestic EPC?
When you are looking to book a Non-Domestic EPC and want to make sure you are getting the best price possible then just head to MyConstructor! Our price comparison platform provides you with access to a nationwide network of fully qualified assessors. Read reviews, compare prices and check the availability of the assessors in your area. Simply click here, then enter the postcode, let us know the approximate size of the property and then choose a time and date that suits you! Remember, you can book online anytime, 24/7!
Are All Of Your Assessors Qualified?
Yes, of course. All of our potential energy assessor partners are fully vetted before they can accept any jobs with our customers. Our sign up process includes us cross checking the assessors unique accreditation number with the Non-Domestic EPC Register so you can be confident that the assessor is fully qualified and capable of performing your report.
Frequently Asked Questions