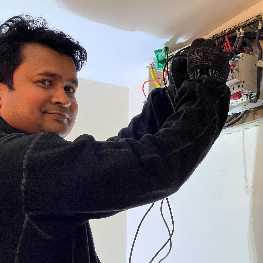 Property Safety Solution Ltd
London, Greater London
at property safety solution we are a professional, affordable and reliable electrical service operating in London & Kent. We are Fully qualified & Insured Electricians who provide all works to meet the highest standard from start to finish - All works are up to current regulations (18th edition BS7671) Fully NAPIT approved Contractor As a Family Run Business , we carry out both domestic and commercial electrical installations and repairs: • Additional Sockets & Lighting • Earth Bonding • Electric Cooker & Hob Installation • Electric Showers • Emergency Lighting (Design, installation and testing ) • External Power (including Garage, Shed & Hot Tub) • Extractor Fans • Fault Finding • Garden Lighting • Lighting Design & Upgrades • Electrical Maintenance • PAT Testing • Consumer unit upgrades • Full & Part Rewires • Smoke and Fire Alarms (all grades) • Electrical Test & Inspection (EICR's) • Sub-main Upgrades • Surge Protection Devices • Car Charging points We always focused on making sure Our customers problems are resolved first time. Having the ability to deliver consistently great customer service. Attention to detail and a passion for customer care. 'Always keeping a clean, tidy and professional job!' No job is too small - We are available 24 hrs, 7 days a week to cover any kind of emergency.
Book your appointment
Get instant prices now!
Choose your services:
Required field!
We're sorry, you do not qualify for the government grant.
Continue and find the best installation prices in the UK.
Congrats! You qualify for a government grant!
You could save up to £350 with a government grant for your charger.
Monday:

Closed

Tuesday:

07:00-22:00

Wednesday:

07:00-22:00

Thursday:

07:00-22:00

Friday:

07:00-22:00

Saturday:

07:00-22:00

Sunday:

Closed
Book online 24/7
Quality 97.6%
Reliability 97.8%
Price 97.1%
Schedule 97.8%
Behaviour 98.3%
Cleanliness 98.3%
Great service exactly as I've been informed
Arben M.
Excellent, fast, well priced and friendly.
Patrick E.
5 Stars all the way. Very professional, the experience was the best.
Norma R.
Excellent and professional
herminder d.
Excellent service. Polite, knowledgeable and professional
Rupal B.
Brilliant ! VERY Happy with this man's work.
Rory G.
Great service, punctual and professional.
Binod D.
Reliable, on time and did the job.
R B.
Engineer turned up on time, got the checks done and certified in good time. A++
Michael A.
I was not present at the time of the visit but communication was good and turn around time was fast so thank and I've had no complaints from estate agent, so thank you very much.
STAFFAN D.
Arifur was excellent, very professional, did a great job, I would use him again.
Suky A.
Arif was very professional and knowledgeable, and carried out the safety checks very thoroughly. I won't hesitate to recommend him to all my friends
Gianluca C.
very good service
Sunil T.
The electrician was very professional and polite. He explained exactly what he was doing and the issue he uncovered and why it required attention. He went on to fix it without the need for another appointment.
Richard S.
Superb service. Prompt, efficient and polite. Already recommended.
Gail L.
Experienced professional who showed up on time and conducted everything promptly and well!
Miray Z.
Arifur conducted the inpection efficiently and professionally.
Anthony R.
Made the whole experience easy, I will definitely be using this company again & would recommend to friends.
Gregory E.
I'm still waiting for my report and it's over five days!
LOUISA M.
He was excellent.
Kalpana G.
Really great service . Thank you so much.
Sarah F.
Very prompt and professional service. Also provided the report on time. Thanks for your help Rahman.
Joseph J.
Excellent; Polite, clean and swiftly carried out and written report issued immediately. 100% would use again.
steve s.
5* to MR Arifur. Very flexible, punctual , quick, polite , know his job.
Harendra s.
Appointment was kept on time. Really efficient, pleaseantly suprised at how good the whole process was
Kaes E.
Appointment was kept on time. Really efficient, pleaseantly suprised at how good the whole process was
Kaes E.
Thanks so much for the great work.
Kevin B.
Excellent and Efficient Service. Would definitely recommend
Najam H.
Arifur was great, he got on with the job and was very helpful in explaining what needed to be fixed, and what to be aware of for the next report.
Sam T.
I booked the day before, very glad to be able to get someone at such short notice. the electrician arrived promptly and did the work quickly and efficiently, I received the certificate the next day, really happy with the whole service. Thanks!
elizabeth f.
Perfect all round - thanks
Sharon H.
As far as my tenant was concerned, he had no complaints.
Jocelyn C.
Great electrician. Very helpful and accomodating. I will definately be using his services again!
Mohammed A.
He helped me with things that he didn't even charge like my Mains boards he put safety stickers on for me. Really professional knows all of his staff. Friendly and ontime. Thank you
Wasim W.
five star on all counts
Lee S.
He was excellent, very professional, honest, clear, quick and was able to answer my questions. Would definitely use him again. One of the best I've ever experienced - has restored my faith!
Perdita M.
Arif did an excellent job provided great customer service and I'm happy that the electrics are now safe
philip d.
Very good service- prompt arrival & EICR report received the same day!
Deepak M.
He could not have been more helpful and professional. Price to rectify issues was very competitive and the work was completed only a few days later (on a Saturday). Would happily recommend.
Roy O.
Very nice man. Carried out his duty diligently. Highly recommended
BERNADETTE C.
Md arifur Rahman was extremely professional and polite. He explained the process of the work I asked him to carry out. I have already recommended him to family
Marlene S.
Arifur was amazing - he took me through the whole process and explained what he was doing at each step. Very cordial and constructive. Very highly recommended.
Daniel R.
Great service, communication from the office to the engineer doing the works..
Steve Y.
Highly recommended! Very professional and courteous person.
ANNA K.
Great experience of this contractor. Efficient, professional and reliable, he kept in touch so i knew when to expect him, communicated clearly and was a really nice person. Thank you Rahman
jacqueline a.
Very professional and knowledgeable.
Ophelie B.
Highly recommend. Great customer service.
Nikky S.
Booked EICR and PAT testing. Good availability of appointments, good communication from the engineer, and a fair price. Certificates were received on same day as the test. would happily use this service again in future
Christopher D.
Customer service support is great. The organising of appointments , making them, cancelling them or changing the dates is very easy.
Firoozeh Z.
The guy went and did the inspection...no fuss. Very reasonably priced. No complaints.
Nigel P.
The entire process from booking to getting the work done was fairly straight forward. price charged to carry out the same work was much better compared to their competition. would recommend to use MyConstructor's service...
Hemant P.
The engineer was very impatient over the phone when he asked for parking information and he upset the tenant. The plus is that his report is very thorough and was completed very quickly.
Karina N.
The work report was clear and has made some recommendations. I am sorry if the star rating was not done correctly,as I have not done one before. I will certainly use the firm again.
Helen J.
Overall I am pleased with the service received but was let down by very late attendance and poor communication.
Andrew M.
Overall satisfied, but could improve.
Shiblee A.
Very expensive quote for work
Taylor P.
It is arguable if this inspection should have failed. He quoted for work to pass it plus he quoted to be paid for certification the second time. (once through this website and second time directly to him after he had performed the work) We questioned the fee and requested a text to confirm and he did not respond, although he previously texted 3 times to ask for website fee for "failed certification" to be paid. The price quoted for technical work of inserting RCD was high average. Fail for not having a RCD relies on electrician opinion and this one thought it essential in a small bedsit flat and in absence of high voltage appliances such as garden lawn mower. If RCD is essential at a property, then a better solution is changing of the consumer unit to metal which is the current code and extends the validity of certification to 5 years. We are having a different electrician instal metal consumer units for the two properties he failed for not having a RCD at a significantly lower cost that he quoted for RCD+certification. Marked down on reliability & schedule as he changed appointment twice on the day with "reasons", but he let us know so we could inform two sets of tenants. To clarify this low score is for electrician and not office staff that have been very helpful.
ETG Developments Ltd .
Show all...