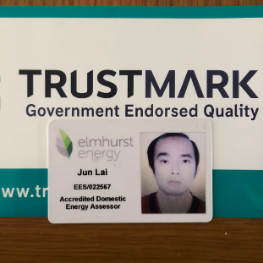 Epsom, Surrey
I have more than 4 years Engergy Performance Certificate and Floorplan experience Cover KT19, KT18, KT17, KT20,KT21, KT21, KT22, KT3. SW11, SW15 ,SW19 ,SM1, SM2, SM7 Etc. area
Book your appointment
Get instant prices now!
Choose your service:
Required field!
We're sorry, you do not qualify for the government grant.
Continue and find the best installation prices in the UK.
Congrats! You qualify for a government grant!
You could save up to £350 with a government grant for your charger.
Monday:

08:30-20:30

Tuesday:

08:30-20:30

Wednesday:

08:30-20:30

Thursday:

09:00-20:30

Friday:

08:30-13:30

Saturday:

09:00-14:00

Sunday:

09:00-14:00
Book online 24/7
Quality 94.6%
Reliability 96.5%
Price 96.3%
Schedule 95.7%
Behaviour 95.7%
Cleanliness 96.3%
Jun Lai is extremely professional and was on time to complete the survey. At the end of survey he asked if I had any questions and helped me understand the process. He promised the certificate will be available online later in the evening, which it did. I would definitely recommend him. Thank you.
Anindya B.
Great service from Jun. Courteous, punctual, tidy & efficient. The appointment was a bliss and Jun provided some really useful advice on improving the energy efficiency. EPC issued few hours later. Highly recommended.
Marta K.
Efficient viewing.
Simon Y.
Reliable and quick service, thank you!
Ioana J.
Kept me updated on timing which was great! Very efficient
Manuela P.
Mr Jun Lai (EPC) test Visited my property yesterday evening as booked , and was very safe, courteous, and respectful to my home. His knowledge and professional ability where floor less and I was very happy with both his service and the myconstructor team.
Alex J.
Thank you Jun for coming to the flat to do the assessment for the EPC. My feedback is as follows: * your call to confirm when you were due to arrive was very much appreciated, and your punctuality. * I know that lots of people will really have read their emails much more attentively about what to expect from the visit ! but I wonder if at the start of the process a quick "what I'll be doing during the visit " might be helpful for other customers. * I would have appreciated an offer to remove outdoor shoes before entering the bedroom these are small details though and I was very happy with your service.
Katrina S.
Very professional and punctual. I had my certificate sent the same day which was much needed. Easy to book. Would 100% recommend to a friend.
Keisha J.
A pleasant gentleman. Very Professional person Absolutely happy with Jun's epc service
Paul P.
Quick efficient service. Will definitely use again
Ryan O.
Professional and excellent to deal with . Did a great job and would highly recommend it.
Arleta R.
Very efficient service. EPC report received within a few hours.
Jennifer L.
Quick and efficient, booked and done within 24hrs and got the certificate the next day aswell.
Al S.
Jun was punctual, professional and thorough. I wouldn't hesitate to recommend him.
Karen G.
Excellent Service same day certificate!
Rakesh S.
Punctual, polite, excellent service
J C.
Really efficient and excellent work done. Recommended!
Dora Z.
I would strongly recommend Jun Lai as he was prompt and very productive in his inspection and also the report was delivered on schedule, as committed
Ameet D.
Super fast and efficient! 100% recommend and would use again.
Jemma B.
Fast reliable service from Jun Prompt arrival. Professional Thank you
Kie N.
I was very happy with the services Jun provided. It was very easy to book him and he had availability the following day. The was prompt and professional when doing the inspection, answers all of my questions on the day and even followed up when the certificate was ready.
Maryana L.
Professional conduct, quick and clear EPC report.
S H.
Extremely likely
Rouben S.
pleased by the serivce quality
Laurence H.
Excellent work, very professional, on time and thorough yet quick
Lorman C.
Jun Lai did an excellent job. He was punctual, organised and professional. After the survey, he provided me with the EPC within hours. I highly recommend him!!!
Silvia C.
Very happy with the results. Came out on the same day had floor plans within 2 days and excellent price! Thank you
Sally C.
Jun Lai was super; clear, informative and pleasant. Turned up on time, was very quick and precise. If anyone is considering an EPC engineer, Jun is your man!
Oliver C.
Mr Jun Lai is 100% good worker well manner person He was on time and did his job well Eni.
Eniye O.
Booked on a Friday, meeting on the Saturday, certificate ready on the Sunday. Really quick and efficient.
Jane L.
Jun was very professional and able to fit in the appointment at short notice. Highly recommended.
Charlotte S.
Fantastic service. Highly recommended. Fast, efficient and cost effective.
Marta K.
Great experience. Jun was thorough and knowledgable, answered all of our questions. Highly recommend.
Kinga H.
Nice guy abs very efficient!
Penny D.
Great Job. Well done
frencham D.
Jun was able to show up at short notice to get my EPC done. He contacted me in advance to reconfirm, was polite and respectful while in the flat, and seemed thorough in his assessment. He was also very quick in inputting the data and I received the certificate only a few hours later. I would recommend his services.
Petra K.
Excellent service
Bing T.
Friendly and professional service. Arrived on time and answered all my questions. Thanks
Rose s.
Excellent service. I'll appoint his services again in the future without a doubt
Marco G.
Great service! We will definitely use this company again; prices are competitive, staff are friendly and efficient and they have great availability. Jun communicated with us as his clients and was polite and professional. Thank you!
Sarah M.
Excellent communication, completed EPC super fast would highly recommend
Dean R.
Excellent service highly recommend Jun Lai
Rouben S.
Jun is very prompt and extremely efficient and thorough in his assessment. I will definitely use him again and will recommend him to everyone. Five star service.
H R M.
Very helpfull, and professionally woukd use again
Paul W.
Excellent service provide by Mr. Jun Lai. Friendly and efficient while doing my EPC. Highly recommend.
Somay O.
Jun was very efficient and sent me the floor plan within a few hours!
Hannah L.
Quick and easy to arrange booking, reasonable price. Tenants didn't had any issues so I assume professional was good and attended on time.
L W.
Good communication, great service I am so happy
frank L.
Very good and efficient service. Over all very happy.
Aurooj S.
Excellent and speedy service. I will recommend. Will use his services again.
Dr Francis S.
superb service and communication-very highly recommended
David D.
Jun was punctual, and took the time to go through everything properly. He was very diligent and knowledgeable, answered all of our questions. I would recommend. Thanks
Kinga H.
Very helpfull and professionally
Paul W.
Professional and reliable. Next day booking and efficient visit.
Paulina K.
Helpfull and friendly
Paul H.
Jun provided an excellent service in providing our EPC. Efficient from start to finish. Would definitely recommend.
Kuljinder R.
Amazing Great service.
Jason K.
Very good service arrived promptly was polite and professional would recommend Jun anytime especially as the price was fair
Mark G.
Excellent service.....quick turnaround. booked a gas safety as well
Robert B.
Fantastic - Needed an EPC at very short notice and turnaround - Jun not only arrived but also delivered the certificate the same afternoon as booking. Very Much Fully recommended.
Charles L.
Good, quick service
Dean R.
All went very well. No trouble at all, very polite, would use again.
Gareth J.
Quick and efficient service by Mr. Jun Lai. Thank you!
Alex S.
Good website and contractors Good communication I have used My Constructor before and will do so again and recommend Mr Lai
Mr T M S.
Arrived on time, received certificate within 24 hours. Very happy with the service.
Victoria J.
Very Good. Prompt.
PRADIP S.
Very quick to respond. Same day service. Quick but thorough
jacky h.
The contractor was on time he was very polite he was effient. I am happy with his work
Jennifer H.
Very good service punctual and reasonable
Bren W.
Mr Lai was on time, professional and conducted his work without fuss. The EPC was issued by Elmhurst Energy and e-mailed to me within 24hours. I challenged one of the ratings on his assessment and Mr Lai responded promptly but felt his rating was appropriate. I followed the second line of appeal process detailed in Elmhurst Energy's documents only to find the contact info was incorrect and subsequent delays ensued. The matter was finally resolved after a revised assessment by Mr Lai resulted in a new EPC being issued.
Ivan S.
A pleasant gentleman but found slightly difficult to understand owing to language diference
Michael B.
Turned up on time good communication. Flat had just had a professional clean and he used the toilet and didn't clean up after himself.
Imran A.
I have booked the EPC with Myconstructor,the price is really reasonable and received date/time immediately. However the electrician has contracted in person to change the date/time which I don't mind. But the experience is not pleasant as the electrician is rudely asking questions involves personally choices, commented the flat is impossible to sell. I don't even believe the rating is done fairly.
Jing X.
He was rude, did not wear a mask or ask if this was necessary. He was in the wrong flat and argued with me when I told him this. He rang me later again to argue about the address of my property. I contacted you and complained.
Sarah M.
i ordered a simple floorplan of a simple house boat that i needed to decide on the preferred new room layout. At the time of inspection there were no internal walls and although there were contents inside, nothing blocked the ability to measure what is no more than a very long rectangular shed, with 1 sliding patio door, 1 inward opening french door and 6 windows of the same height dimension + 2 further windows. Also, I paid for photos and 3d floorplan. the first draft missed the existence of a 1 wall, a several windows, yet added an imaginary 2nd sliding door and missed the french doors When I highlighted the issues, i was asked to provide the measurements and he would correct things?? I refused and asked him to return if needed. He sent through an amendment. Now I had 2 exterior walls printed as solid 12mm wide and 3 other exterior walls solid 5mm wide. In reality, the only wall present are exterior walls (built with standard 4x2 framing). The 3d is lovely buy doesn't show what is here "artists interpretation" would be more accurate. Photos: none. I complained. He replied that he doesn't understand what the problem is. So apparently this is normal for him... i will use the site again, but not this person.
Glen F.
The quality of the photos was terrible. Hardly able to use them on the listing. You have a booking system but the guy called me try and move the appointment.
Chris D.
Complete amateur- took property advert photos with an Iphone!!
Shaun M.
Show all...